It's extraordinarily small/it's high-density,* multipole Circular connector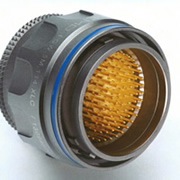 ●It's extraordinarily small/high-density circular connector is achieved by combination of various technology and know-how.
The push-pull structure of the LEMO circular connector vibrates and pulls it and is twisted, patient of use at the severe environment bottom exposed to an impact fully and effective in particular in work at a small place and work by a short time, etc..
Space-savingly, portability and high integration invent the new value in various faces by the thing a product miniaturizes more compactly.
Compact coaxial Marugata connector (50 Ω, 75 Ω and 3 It's compound coaxially, coaxial)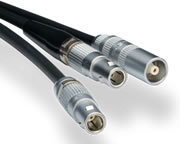 ●The insertion and removal by which Remo company is the axial direction (push-pull operation), just, making was selling all kinds' coaxial connector with original PUSHUPURUSERUFURATCHINGUSHISUTEMU which achieves certain plugging in and out (50 Ω, 75 Ω and 3 Coaxial) for years.
Light circular connector Push-pull connector with the low insertion loss which could excel emergency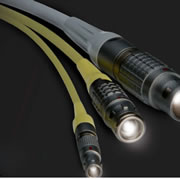 ●Remo's circular optical connector is a connector by which the light contact designed originally is had built-in so that even single electrode (1 core) can use numerous cores. I possess low insertion loss very excellent in both of them of a multi-mode/a single mode.
Light contact of Remo original is equipped with a spring inside it, and a PC connection with the to be taken and to be stable fixed connection pressure is always also possible by numerous cores by a single core.
Thermocouple circular connector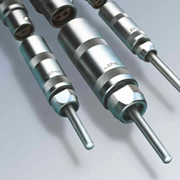 ●Using the same metallic contact pin as the thermocouple Remo's thermocouple circular connector uses (extension lead wirer), when, I'll prepare the type of 10 kinds of E type (black Meru constantan) etc. including K-type (black Meru alumel), and it's being done.
Liquid and gas can be let run with a signal. Push-pull fluid circular connector.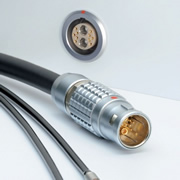 ●That Remo's fluid circular connector lets air and an inert gas through, first, there is composite model with a shutoff valve which can let designed single tube model (made of plastic stick), liquid, gas and electric (Ko is coaxial.) signal run by one connector.
It isn't necessary to block liquid and gas on the equipment side off because it's with a shutoff valve.
The push-pull structure can connect both models simply by single touch. Because attachment and removal at a site is very easy, I'll contribute to lumping simple crossline between the unit and time reduction when maintaining.
Compound circular connector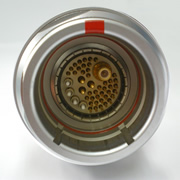 ●Different contact is arranged together in one connector. It's most suitable for space saving! Hybrid connector
I'm preparing the contact which is coaxial in addition to the contact for low voltage signals by Remo and has abundant fluid and light. Those contact combines those as well as can arrange at independent multipole and is also preparing the compound connector I made intermingled in one connector.
Waterproof circular connector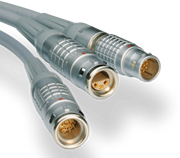 ●A small PUSSHUPURUKO circular nectar is offered by the waterproof specification.
I have a large selection of circular connectors of the designed waterproof type a lot in order to use outdoor under Remo.
When assembly appropriate to an appropriate cable was done, you can have all kinds' waterproof circular connector equipped with security function of IP66-68 level based upon IEC 60529 standard in the kangou state and select a connector series according to the use.
Waterproof hydraulic pressure/circular connector in the water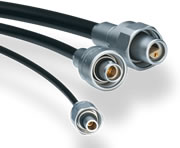 ●It's different from a push-pull system of a general Remo connector in a design and a manufactured connector so that a circular connector in Remo's excellent water may be endured by Fukamizu in the super-high voltage in the water, and a screw coupling system is adopted as the kan accompaniment system. These kangou system and ceiling system by FPM (Viton) etc. achieve tough waterproofness and the waterproof special quality.
High-voltage Marugata connector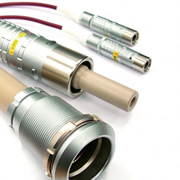 ●Exclusive use is designed so that lemo's high-voltage connector may show the maximum electric strength performance while keeping the push-pull structure. It's possible by this that attachment and removal work does easily and certainly though it has the very high pressure-resistant performance.
It consists of SHV a type and MHV type connector with a connector capable of attachment and removal by a small size by the push-pull structure peculiar to lemo.
Withstanding and high-temperature circular connector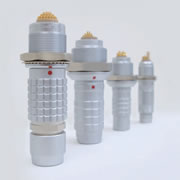 ●lemo connectors are also practicable withstanding and a high-temperature circular connector at the severe condition bottom of hotness and a high fever because the excellent material is being used for heat-resistance.
I possess high-temperature performance of 250 ℃ of biggest continuous operating temperature (in case of non-waterproof type) while having the small size which is the feature of the lemo connector and the push-pull structure (= insertion and removal is easy.)
A connector of a plastic housing is also the goods prepared for at most 170 ℃ and hot sterilization processing.
It's airtight/it's vacuum, (waterproof) circular connector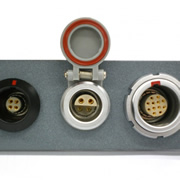 ●The equipment on which that was loaded means that a cap and airtight* in the equipment without the facts in which a plug is put keep waterproofing with* waterproofing airtightly. When equipment also needs airtight (waterproofing) by the state that a connector came off, it's necessary to use an airtight (waterproof) socket.
An airtight (waterproof) socket of lemo fills epoxy in the connector and achieves airtight maintenance, the air leakage rate in the airtight model (He), 1 x 10⁻,⁸ Pa ㎥ Is /s (1 x 10,⁻⁷ mbar.ℓ /s) (IEC 60512-7 test 14b).
tai vibration and shock-resisting circular connector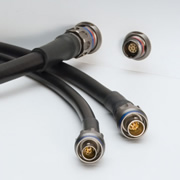 ●It's light-weight and compact. The circular connector which could excel tai vibration and impact resistance. The circular connector of lemo is excellent in resistance against vibration, and vibration and an impact measure are suitable for emphasized application. It's light-weight and compact than a standard Remo connector, and I'm also preparing a connector of excellent aluminum-type (F series and M series) for tai vibration and impact resistance more.
Connector for high-speed transmission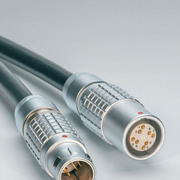 ●I'm preparing the connector which satisfies the special quality of Cat 6 based (communication speed :1Gbps and transmission band :250MHz) and the Cat 6A (communication speed :10Gbps and transmission band :500MHz) in IEEE 802.3ab as a connector for high-speed transmission by the lemo connector it enabled to transmit at high speed under the severe environment.。
Circular camera connector for broadcasts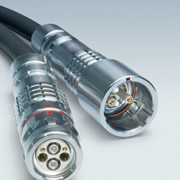 ●Circular connector for broadcasts corresponding to a global market. The ARIB standard corresponds to the various standards. lemo company offers a camera circular connector for broadcasts of the whole species to Europe, Japan (China and Asia) and USA in a represented global market. The kind of camera connectors for broadcasts of Remo company is a developed optic fiber connector to answer to SMPTE, ARIB and the EBU standard with a TRIAX connector corresponding to conventional analog and a digital television camera in new generation (HDTV).
Additionally LEMO connector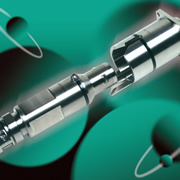 ●I'll offer you the connector solution for which I responded to the demand. It's possible to combine more than 75,000 because lemo's circular connector adopts a module system. This, various, they're able to choose the most suitable connector which can respond to all requests supplied to a variety to combine. I'll also offer you the connector solution a custom connector, a custom cable, cable processing and a laser marking included about the application which needs a special design.